BLACK BULL GOLF RESORT
Celebrating its 48th season, the Black Bull has transformed from its humble beginnings as a 9 Hole facility which opened in 1971 to the world class 27 Hole golf resort it is today. This metamorphosis has been the direct result of the unwavering dedication and devotion of the Jackson family who dared to have a vision and worked hard to turn that vision into a reality for all to enjoy. Led by Cal and Millie Jackson, along with their children Judy and Brian, the Black Bull has shaped, formed and evolved into one of Alberta's most hidden gems.
Throughout this transformation, the Black Bull has established a reputation as one of Alberta's most rewarding, challenging and impressive golf courses being played today. The sheer scenic beauty alone, offered by the Black Bull, astounds all golfers who grace our fairways. With rich hues of emerald and jade along the velvet texture of the greens, our pristine course is woven with mature spruce trees, crystal clear waterways and views that can only be described as postcard worthy.
However, the stunning picturesque beauty of the Black Bull is only one facet that draws golfers to our luscious course year after year. With its clean crisp air, relaxed atmosphere, and country charm, the Black Bull offers an overall experience unparalleled by other courses. The Black Bull is located not so far away from city limits allowing you to easily escape the hustle and bustle of every day life to the serenity and tranquility offered by the Black Bull's country setting. Our close proximity to Pigeon Lake also means that there are endless activities offered for the entire family.
In addition to Black Bull's unique charm and personality, it also offers course options, programs & services, and amenities you would expect to find at a golf resort of this caliber. Our family style approach and exceptional customized service will help you find a membership, tournament package or golf deal that is right for you. Please visit us today and allow us to demonstrate why the Black Bull Golf Resort should be your destination of choice.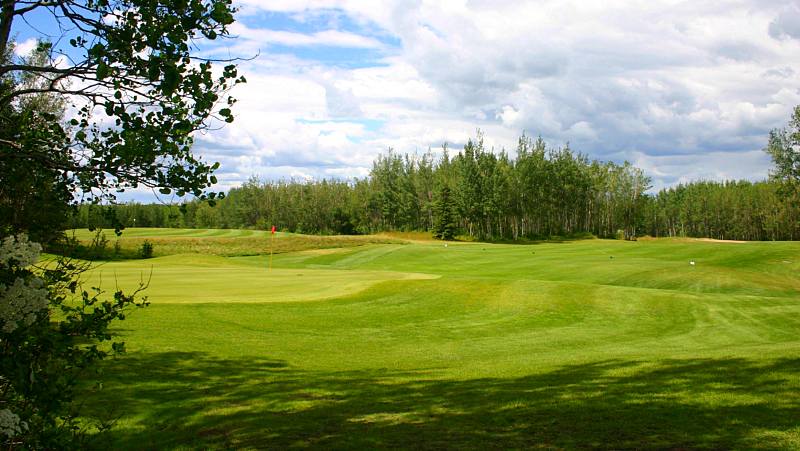 We are one of Alberta's most hidden gems
Black Bull Championship and Executive Course > GOLF COURSE
Enjoy and relax with all amenities close by