BLACK BULL GOLF RESORT
Black Bull is one of the most beautiful golf courses in the province of Alberta, Canada. If you have never played the Black Bull you should not wait another day. The Black Bull's tree lined fairways and spectacular views make it a must play for every golfer.
Our 27 hole facility offers an 18 Hole Championship Course for the avid golfer as well as a 9 Hole Executive Course that charm all golfers who play it. There is plenty of golf at Black Bull for the entire family.
Black Bull Golf Resort is also equipped with all the Amenities that you would expect at a top rated course such as:
Full service restaurant (rated "best in the area" by local customers).
Fully licensed lounge complete with large screen, entertainment & music
Practice facility including instructional area, practice greens and bunker and a 300 yard driving range complete with fairway like driving zone
A fleet of 80 power carts / beverage carts
Seasonal RV Park - 47 Executive sized seasonal only RV sites. Available only on an Annual Lease. Includes winter storage, and includes a complimentary unrestricted Season Pass. This RV Park is equipped with 50 amp power, sewer, water, wifi, showers, washrooms, laundry facilities, and recreation/communal areas
Short-term Stay RV Park - 16 sites equipped with water, power, sewer, washrooms, and coin operated shower facilities. This park is available for nightly, weekly, and monthly rentals and is ideal for family reunions, weekend getaways, or vacationers just passing through
Read more about Black Bull's R.V. Park > RV PARK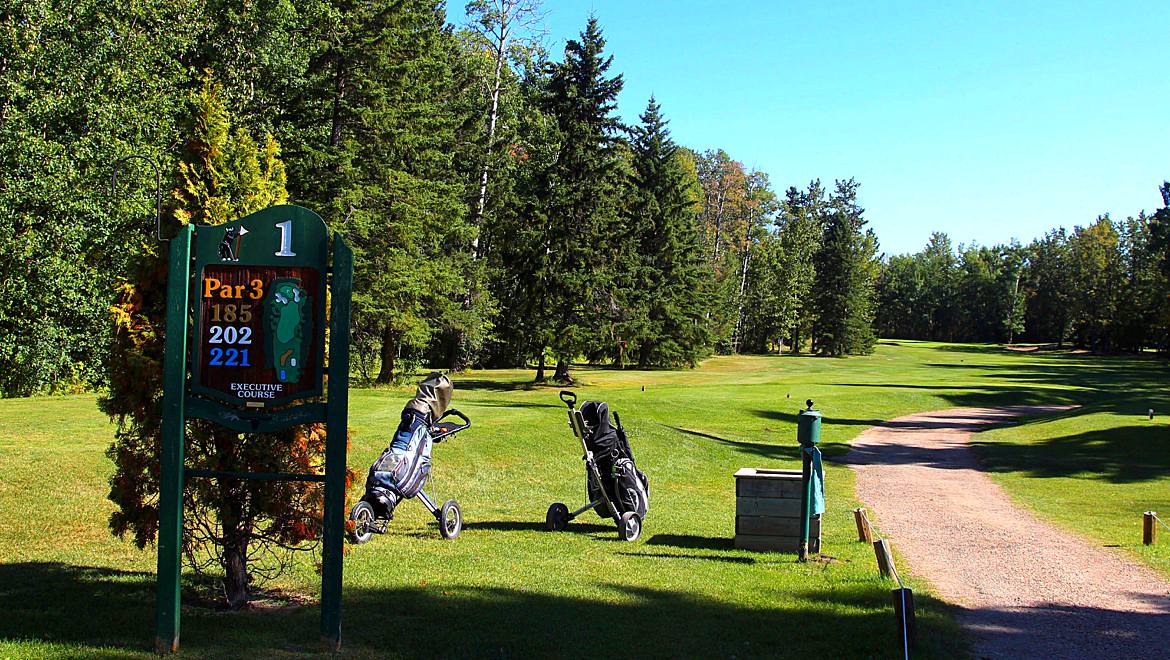 Black Bull Golf Resort features 27 magnificent golf holes
In addition to all of the above great amenities offered at the Black Bull, our location cannot be beat! The Black Bull is located only 3.5 miles from Ma-Me-O Beach, one of the nicest beaches and swimming spots on Pigeon Lake. If that weren't enough, the Black Bull is also located directly across the street from the Village at Pigeon Lake.
The Village offers 4 restaurants, a grocery store, gas station, world class spa, retail and shopping, liquor store, car wash, yoga studio and much more! The Black Bull truly does offer something for everyone.